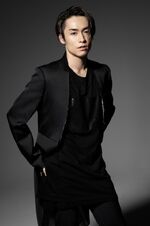 On March 5, 2019, it was announced via EXILE related websites that EXILE/EXILE THE SECOND member TETSUYA have married.
It was revealed that TETSUYA submitted a marriage notification with a non-celebrity women on March 5. TETSUYA and the women have been dating for around 3 years and both decided to marry in order to start a new path of their lives. The schedules for a wedding ceremony is still undecided.
It was also revealed that the couple is expecting their first child, that will be born this year around summer (being expected for around July).
TETSUYA is the sixth EXILE member who had married, joining HIRO, Matsumoto Toshio, MAKIDAI, ÜSA and TAKAHIRO, and fifth to have a child.
Message from EXILE TETSUYA
"EXILE TETSUYA's message to everyone who always supports him"
Thank you for your continued support all along.
I have an announcement to make here. I and an ordinary lady who is one year younger than me officially got married on March 5.
We started as friends and began dating several years ago. Since then, we have become indispensable in each other's life.
And we are also expecting a baby now.
It has been 10 years since I joined EXILE and I felt a sense of responsibility in the course of learning a lot of things. I will cherish each and every day I spend as an EXILE member, as a member of society and as the mainstay of my family.
I would like to thank all the fans, the EXILE members, staff and everyone involved who always warmly support me. I will work even harder from now on to repay you through music, dance and my activities. Please keep on supporting me warmly in the future!
EXILE TETSUYA
Sources: EXILE mobile (in Japanese) | Sponichi Annex (in Japanese) | EXILE TETSUYA's message
Community content is available under
CC-BY-SA
unless otherwise noted.