PSYCHIC FEVER is a Japanese all-male dance and rap group formed in 2019 and managed by LDH JAPAN. The group is composed of 8 members who were all students at EXPG Lab.
Members
Former Members
History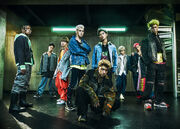 Pre-debut
On July 4, 2019, PSYCHIC FEVER made their first appearance at the BATTLE OF TOKYO ~ENTER THE Jr.EXILE~ live concert at Makuhari Messe.
On September 24, 2019, the group was officially announced by LDH JAPAN on Shuukan EXILE, together with their profiles and first Musha Shugyo event, that went from October 5 to December 8.[1]
On May 31, 2020, it was announced that HANATAROU had been suffering from poor health for a while and had decided to leave the group and end his activities under LDH JAPAN after discussing with the company. PSYCHIC FEVER would continue to work as an 8-piece group.[2][3]
On July 16, 2021, it was revealed at the first concert of the Sandaime J SOUL BROTHERS LIVE TOUR 2021 "THIS IS JSB" that the group would be unveiling their pre-debut single "Hotline" on July 18 exclusively on their YouTube channel and that they would hold an online musha shugyo on TikTok starting on the same day. Additionally, several official SNS accounts for the group were opened.[4][5][6][7]
Discography
Works
Music
Music Video Appearances
Concerts/Tours
Tours Featured In
Concerts Featured In
Events
[2019.10.05-2019.12.08] PSYCHIC FEVER Musha Shugyo
[2021.07.18-] Musha Shugyo on TikTok
References
External links