DEEP SQUAD is a 6-member, all-male vocal group managed by LDH JAPAN and signed to Sony Music Associated Records.
The group was formed as a new project from the three remaining members of DEEP by adding three new members who were the winners of the DEEP VOCALIST AUDITION in 2019.
Members
History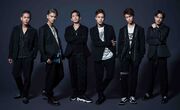 2019-2020
On July 22, 2019, a live event titled DEEP VOCALIST AUDITION ~FINAL STAGE~ was held at Akasaka BLITZ where the members of DEEP revealed that the group would continue activities as a trio. However, they also started a new entertainment project titled "DEEP SQUAD", including three new members who were the winners of the audition out of 12.000 contestants: Uhara Yuhi, Sugiyama Ryoji and Higa Suzuki.[1][2][3][4]
On June 16, 2020, it was announced that DEEP SQUAD would make their official debut on July 22 with the digital single "Get With You", exactly one year after their formation. On the same day as the announcement, the group opened their official YouTube channel and Twitter and Instagram account.[5][6][7][8]
On October 30, the group released the digital single "Good Love Your Love". The song was used as ending theme song of the drama 30sai made Doutei da to Mahou Tsukai ni Nareru Rashii.
2021
On February 22, the group released their third digital single "Anata ga Mayowazu ni".
On April 12, the group released their fourth digital single "2words".
On July 19, they released their fifth digital single "Deja Vu".
On October 13, the group will be releasing their first CD single "Kawariyuku Mono Kawaranai Mono". The song will be used as theme for the animation movie Dakaretai Otoko 1-i ni Odosarete Imasu. ~Spain Hen~.[9][10][11]
Discography
Singles
[2021.10.13]

Kawariyuku Mono Kawaranai Mono
Digital Singles
Pre-release Digital Singles
[2021.10.09]

Kawariyuku Mono Kawaranai Mono
Concerts/Tours
Concerts
[2020.03.26, 2020.04.05] LDH PERFECT YEAR 2020 SPECIAL STAGE ~MUSIC BOX~
[2020.11.21]

DEEP SQUAD PREMIUM LIVE 2020 "NEW STORY"
References
External Links